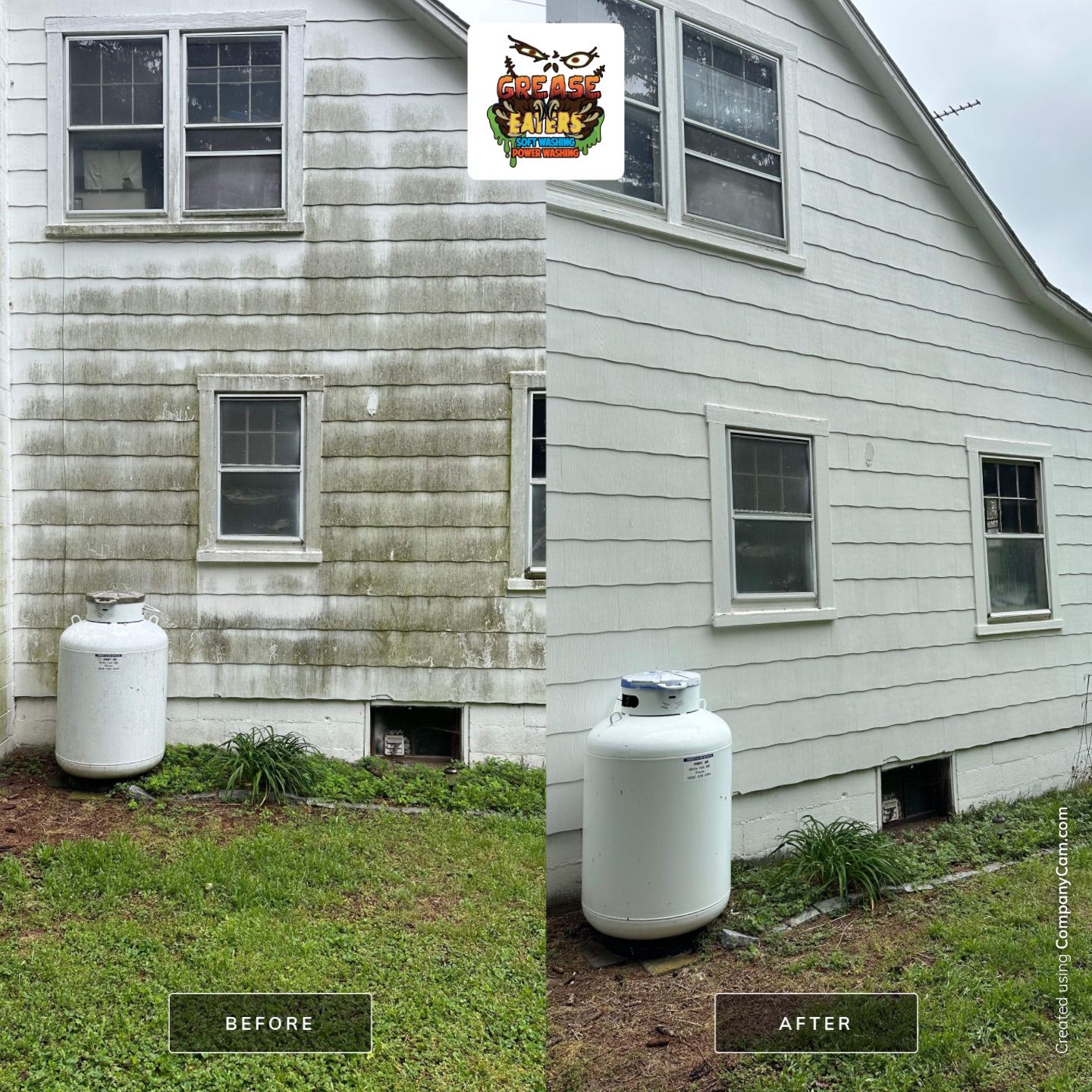 Extreme situation house wash, Baltimore county resident called grease-eaters.com. Are you tired of looking at your dull and dirty house? Experience the ultimate transformation with our Extreme House Wash! Our cutting-edge technique combines the power of grease eaters, soft washing, and specialized mold and algae treatment to give your home a fresh and vibrant look.
Grease Eaters: Our powerful grease eaters are specially formulated to tackle stubborn stains and grime on your exterior surfaces. They break down grease and oil build-up, restoring your house's shine and making it look brand new.
Soft Washing: Unlike harsh pressure washing, our soft washing method uses low-pressure water streams combined with environmentally friendly cleaning agents. This ensures that your delicate siding, paint, and windows remain intact while effectively removing dirt and contaminants.
Mold and Algae Treatment: Mold, algae, and mildew can not only be unsightly but also harmful to your health and your home's structure. Our expert team uses top-notch solutions to eliminate these growths, leaving your house not only cleaner but also healthier.
Restoring Beauty and Value: Our Extreme House Wash not only enhances your home's curb appeal but also helps protect your investment. Regularly cleaning and maintaining your house can prevent premature aging and extend the life of your exterior materials.
Safe and Environmentally Friendly: We prioritize your safety and the environment, using eco-friendly products that are tough on dirt but gentle on nature. You can trust us to provide top-quality service without harming your surroundings.
Skilled Professionals: Our team of trained and experienced professionals ensures that your house is in good hands. We take pride in delivering exceptional results and leaving our customers satisfied.
Schedule Your Extreme House Wash Today: Don't wait any longer to give your home the facelift it deserves. Contact us now to schedule an Extreme House Wash and see the incredible difference it can make for your property.
Remember, first impressions matter. Make sure your home stands out in the best way possible with our Extreme House Wash service.
Gallery